MPBC Members honored with Champions of PRIDE Awards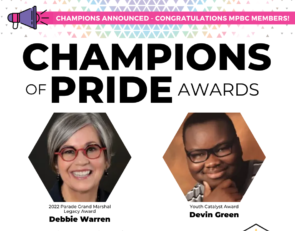 Join us in celebrating with MPBC members Debbie Warren and Devin Green who have been awarded by #CharlottePRIDE for their work and dedication of exemplifying the spirit of PRIDE.

Debbie Warren is honored this year as the Grand Marshal of the 2022 Bank of America Charlotte Pride Parade and the recipient of Charlotte Pride's 2022 Legacy Award. Debbie is one of Charlotte's most visionary and dedicated community leaders and a longtime friend, mentor, and hero to many. For three decades, Debbie led RAIN, which she founded as the Regional AIDS Interfaith Network, as president and CEO. In its early days, RAIN's mission was to connect people in faith communities to those who were very sick with AIDS. Over the ensuing decades, RAIN — which now operates as a national model for education, advocacy, and prevention — grew to meet an ever-changing community and its needs. The organization now provides medical case management, bilingual education and case management, prevention programs, youth and adult support groups, mental health services, advocacy and education. Debbie retired from her role at RAIN in 2021. Debbie holds a Master of Arts from Southern Seminary in Louisville, Ken., and received her Clinical Pastoral Education at Carolinas Medical Center. Her early work as a hospital chaplain and caregiver with the House of Mercy informed her vision for RAIN. Without a doubt, many people are living full and happy lives today because of Debbie's life work, her fierce advocacy, and her strong belief in love, compassion, care and healing. Quite simply, the Charlotte community — and, in particular, the LGBTQ and HIV communities — would not be where we are today without Debbie's strong, decades-long legacy of passionate community service. Charlotte Pride is humbled to welcome Debbie Warren as this year's parade grand marshal and a recipient of the Charlotte Pride Legacy Award.

Our own Devin Green is also on the list as the 2022 Youth Catalyst Award Recipient. Devin is a transmasculine 19-year-old and graduate of the University of North Carolina of Pembroke. At UNC-Pembroke, Devin studied political science and served in several roles, including as a member of the LGBTQ student organization's executive board and a senior representative and democratic engagement liaison for the Student Government Association. Outside of school, Devin has served as a congressional intern with the LGBTQ Victory Institute, a Rural Youth Empowerment Fellow with Equality North Carolina, and the chapter coordinator of PFLAG Charlotte. Devin is an incoming 1st-year law student at UNC School of Law and hopes to continue their advocacy work by becoming an attorney specializing in civil and human rights litigation.

Learn more about the Champions of Pride Awards.