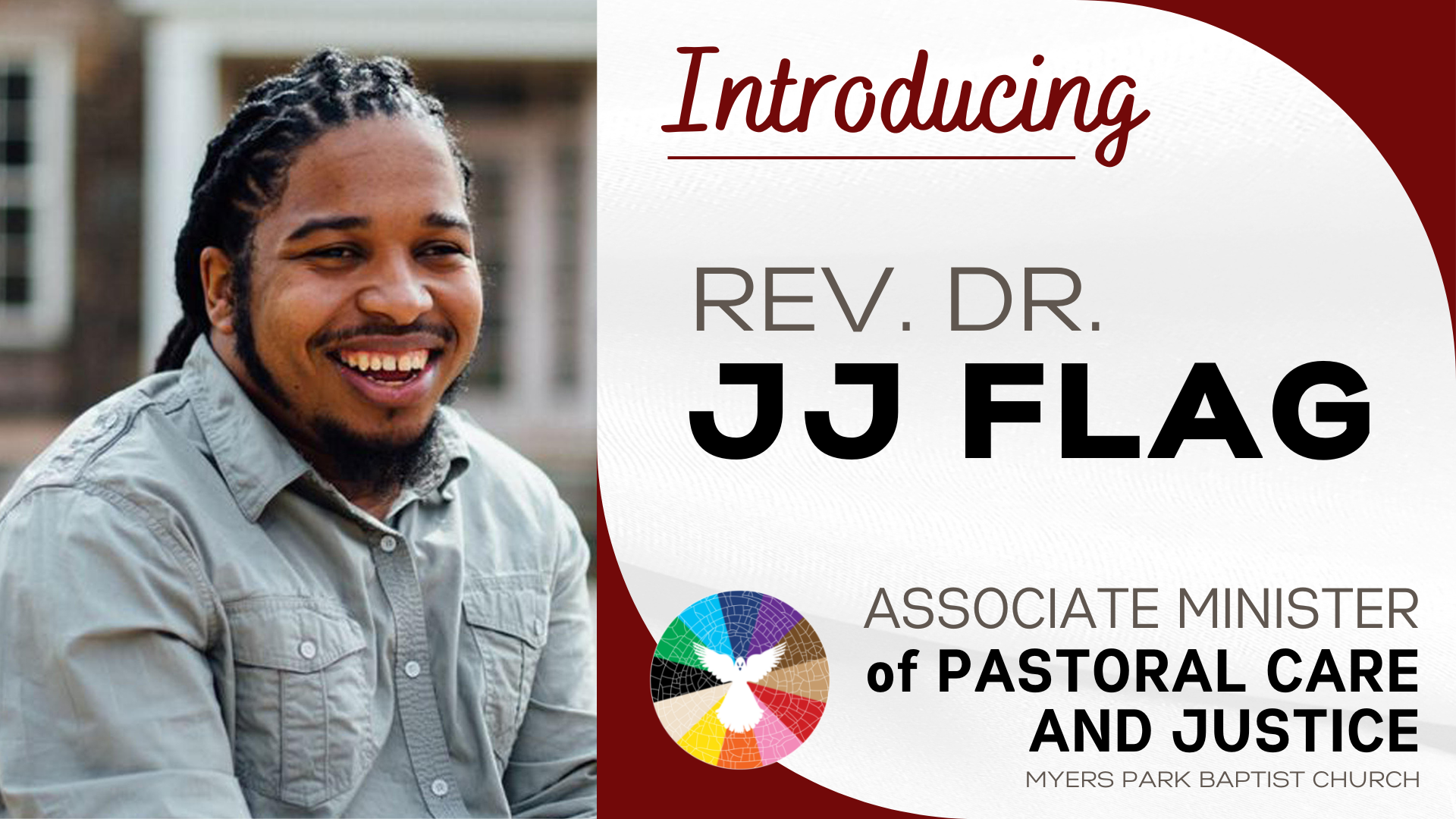 We are excited to introduce Rev. Dr. JJ Flag, who we have called as our Associate Minister of Pastoral Care and Justice. We offer gratitude to our Senior Staff and the lay Search Team of Karen Taylor, Dave Dougherty, Carla Hines, Nancy Hudson, Daniel Miles, and Ellen Caldwell for helping us find a wonderful new minister for our church. After the interviews, Karen Taylor noted, "It was clear in meeting JJ, he has a love for doing pastoral care. His care and compassion were so apparent during our interview process. In addition, it's clear his passion for Justice has been an important part of his ministry."
Dr. Flag received his Master of Divinity at Princeton Theological Seminary and his Doctor of Ministry at Drew University Theological School. He was ordained in the United Church of Christ, completed multiple units of Clinical Pastoral Education, and has served as a hospital chaplain in New Jersey. Currently, Dr. Flag pastors Emmanuel Congregational United Church of Christ in Watertown, NY and before that he was on the pastoral staff of Turning Point United Methodist Church and Princeton United Methodist Church.
One of Dr. Flag's references, Rev. Alexis Fuller-Wright shared this with our team, "One memory that will always stick with me is meeting him for lunch at the hospital where he was doing his chaplain residency. We were stopped by at least a dozen people - this is not an exaggeration - a janitor, a cafeteria cashier, an orderly, a couple of nurses, someone on administration, and some patients. Each of them greeted him by name and clearly had a strong sense of connection with him. He had only been there a couple of months at that point, but he had clearly already developed deep, care-filled relationships across the ecosystem of that hospital. JJ ministers to everyone, everywhere. I've seen complete strangers open up to him and tell them him their life story, and then leave feeling blessed by his witness and care. It is a remarkable gift."
Another reference, Dr. Andrew Wymer wrote, "Dr. Flag is gifted at connecting with people across lines of difference, and he has a passion for creatively engaging in ministry around issues of social justice. I have witnessed numerous times when Rev. Dr. Flag took prophetic stances in ways that remained accessible while calling people to more fully live into God's love. I have also seen Rev. Dr. Flag critically engage his own social location in ways that reflect sensitivity to the negotiation of power in community and deep valuing of those around him, both colleagues and those to whom he ministers. Dr. Flag is a person of faith who is constantly willing to learn and grow — even sometimes change — his theology as he encounters new perspectives and persons. His engagement with the divine and other human beings is dynamic."
After meeting Dr. Flag, Rev. Joe Aldrich remarked, "JJ has a remarkable way of being fully present when in a conversation. He truly listens to you which brings great comfort. He values all persons without expressing judgment. He has a maturity about him and is comfortable with who he is. I am excited about the authentic ministry he will bring as a minister at MPBC." Additionally, Rev. Tara Gibbs shared, "JJ is one the most approachable and empathetic people I've had the pleasure to meet in ministry. His care for the work of caring for churches and communities goes beyond theories and concepts, but he lives out his call in a sincere way. JJ has the balance of thorough education, extensive experience, and natural relatability that this church values. In the short year we were classmates at Princeton Theological Seminary, our most informal conversations always left me with some encouraging food for thought."
Rev. Dr. JJ Flag's first Sunday will be December 18. We will have a reception immediately following worship that Sunday to welcome Dr. Flag and his family. I hope you will join me in offering our warmest welcome to JJ along with his wife Ebony, who is an artist and therapist, and two daughters: Arianna (11) and Mikayla (5). You may remember that Dr. Flag visited MPBC back in February during Black History Month. You can view his sermon and Talk Back below.
Sermon | "A Way In" Sermon Talk Back | February 13, 2022
JJ invites you to follow him on social media: