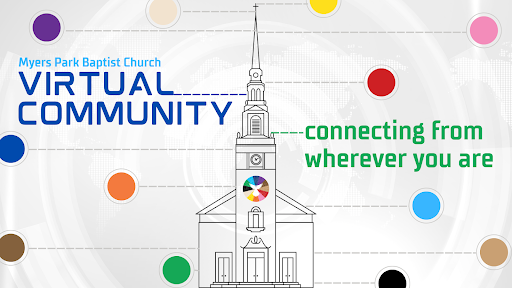 MPBC Virtual Community: You Can Connect from Wherever You Are
By Rev. Carrie Veal
Each week, we average 200 viewers online. Some of these folks are members & some are not. Some are local & some are not. But they are all part of our church community, & we want to make sure they are able to be included in all that we do & are.
After our July Congregational meeting, Miller Yoho & Megan Carmilani said, "We heard the statistics of online viewers, & we want to do more with & for them." Our response was a resounding, "Yes! And Thank You!"
Beginning September 11, we will be launching our newly envisioned virtual community. For the last two years, we have offered a variety of virtual opportunities & now we are discovering ways to be more intentional & focused on developing this community. With this being our Welcome Sunday — a long-standing tradition of worship & lunch together — Megan will host a virtual lunch after worship, beginning at 11:30a. During this online gathering, attendees will also be able to experience the Mini-Ministry Fair that will include information about what the ministries will be doing this fall, what virtual opportunities are coming, & more.
We want to make sure everyone has the opportunity to be involved in what's happening. If you would like to be included on our virtual community email list, please click on the button below.
Join Our Virtual Community E-mail List RSVP to Virtual Lunch