Update from the Name Change Steering Committee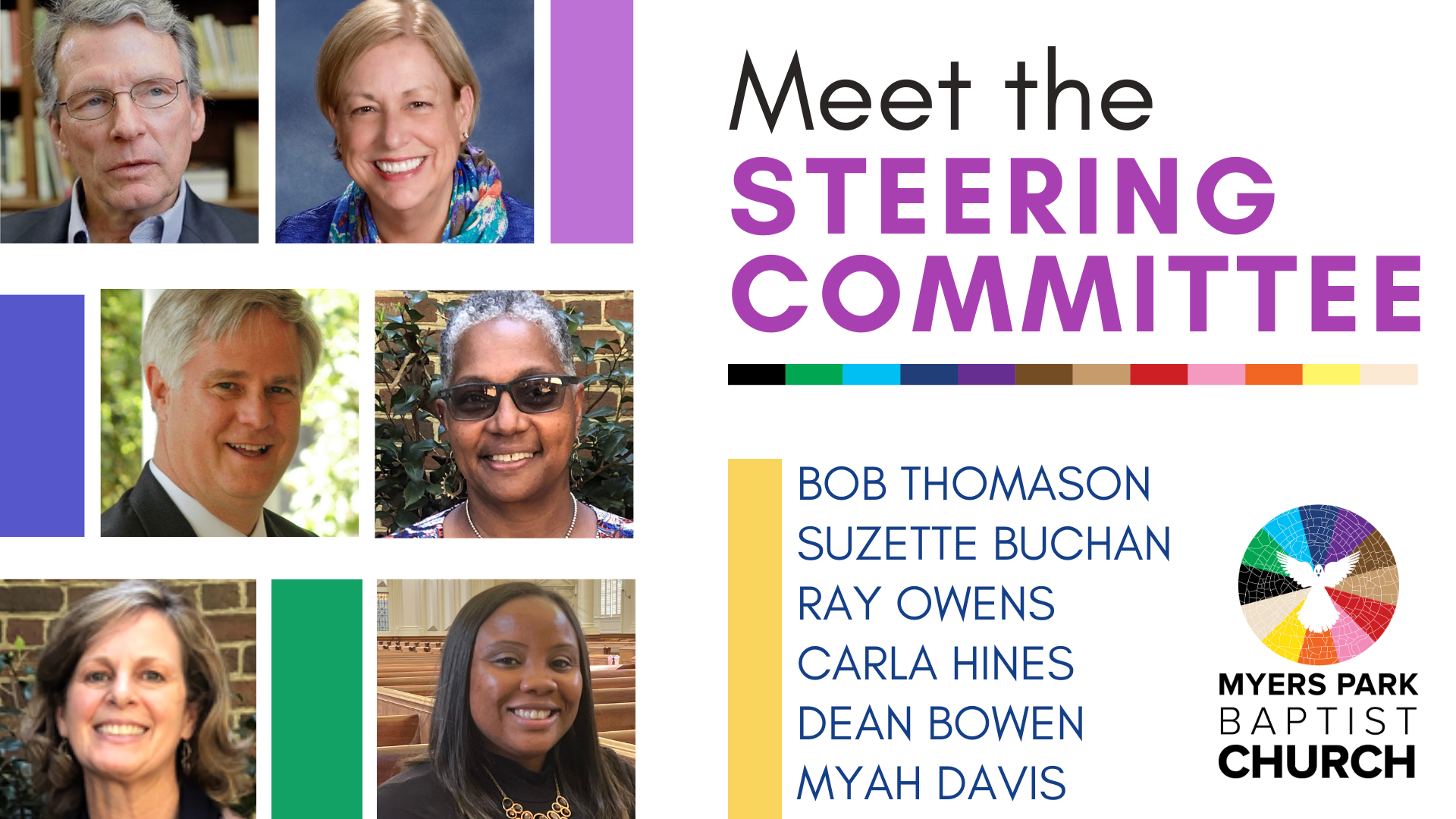 The Name Change Steering Committee has begun its work. Thanks to all of you who have contacted us with your thoughts. We met this past week and would like to share the current status of our work.
First, our group wants everyone in the congregation to know that we will be recommending a change to our name only. That is, nothing else about our church, other than the name, will change. Not our Covenant, not our polity, governance, or our vision, values, or beliefs. We will remain who we have always been except for our name.
Our committee is unanimous in agreeing that our church should no longer include the word "Baptist" in our name for the following reasons:
Numerous studies and surveys show that most prospective church members do not care about denominational affiliation.
Only a minority of our congregation has Baptist roots. In most cases, people today join us in spite of our being Baptist, not because of it.
The public perception of Baptists does not align with our values and beliefs and hasn't for a long time.
The recent vote by the Southern Baptist Convention that excluded women from positions of leadership was, for many of us, the final straw.
Our church has always strived to be a bold leader, but in the case of terminating our association with Baptists, we will be a follower. Many Baptist churches have already made the change, including many churches more conservative than us.
And most importantly, the Baptist name is hindering our ability to attract new members.
How do we know all this? People told us. Our 2019 Church Identity Task Force did a deep dive into how our name has impacted us and what potential church members think of it. They conducted hundreds of interviews in all demographic categories. We have the data and can no longer ignore it: the Baptist name is hurting us.
Rev. Dr. Bill Leonard, one of our church's closest friends and possibly the nation's most prominent progressive Baptist, has asked that all Baptist churches contemplating a name change do extensive congregational education on Baptist history. Over the decades, we have done that. The history of the early Baptists in America aligns very closely with our values. Personally, I've always been proud to be part of the denomination that was anti-slavery and advocated paying Native Americans for their land. But more recent Baptist history - the ascendancy of the Southern Baptists - clearly shows that the majority of the denomination has abandoned those original values. And finally, and most importantly, we cannot educate prospective members about the positives of the Baptist faith if they will not even enter our door (real or virtual). This is the real issue. Changing our name is a matter of our church's survival and sustainability.
What should our new name be? This is the next phase of our Committee's work and you'll be hearing more from us soon. Many of you participated in the online name survey last year but our committee feels we need to conduct a final survey with the goal of getting as much member participation as possible. We had 180 responses to last year's survey which is normally a good response rate but given the importance of this decision, we'd like to do better. Additionally, we've received some very useful feedback on potential new names and believe we can improve on the list in a way that reflects this recent congregational input.
And please remember, our Committee does not have the authority to change our church's name. Neither does the Board of Deacons. We can only make a recommendation to you, the Congregation, and you will make the decision. Our timeline is such that we hope a congregational vote could be held early next year. But we will not rush this process. This is one of the most important decisions in our church's history and it's imperative we give it the time for reflection and discernment it deserves.
We'll continue with regular updates and please continue to contact us with your thoughts.