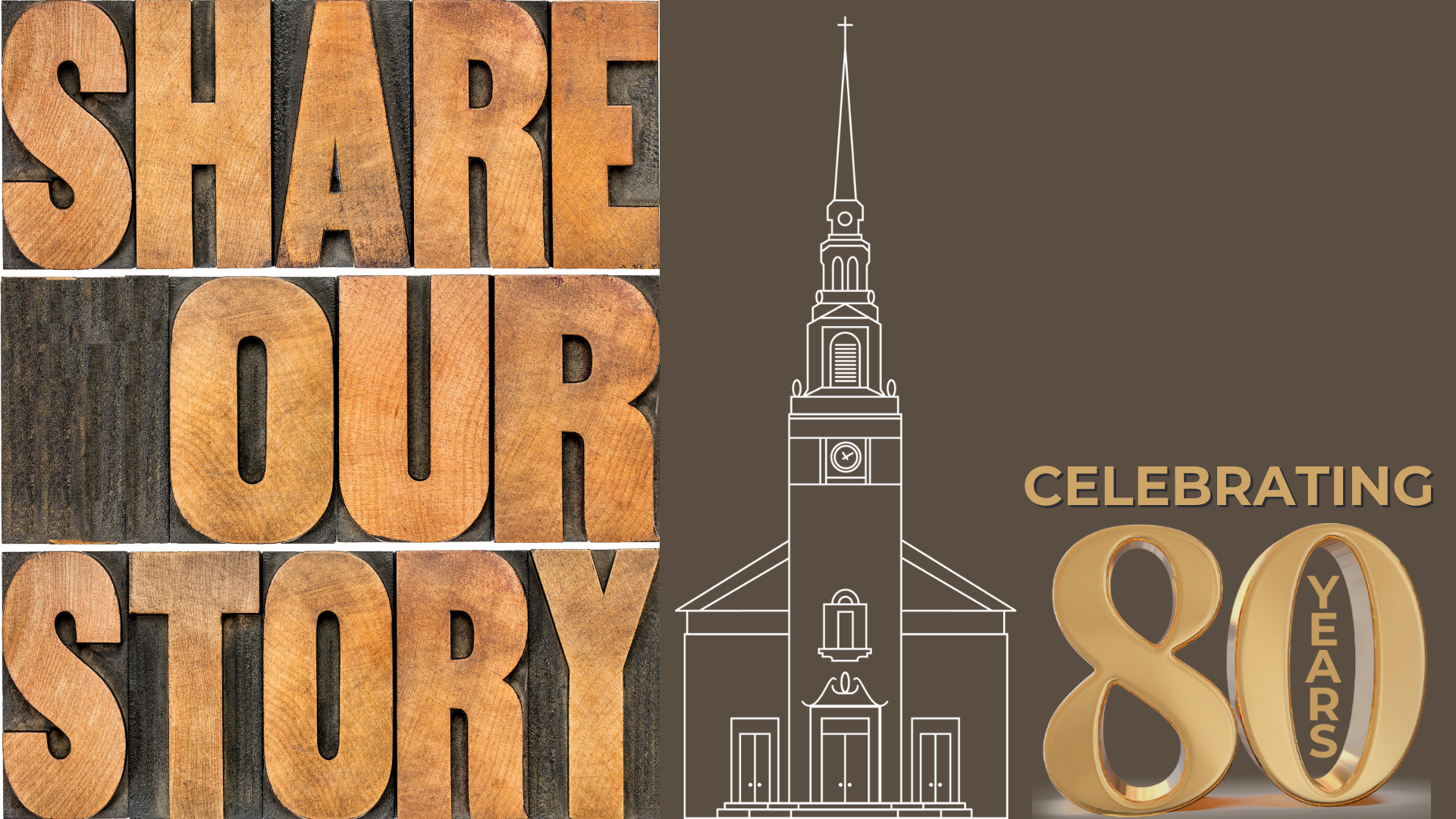 Dr. Boswell's 80th Anniversary Initiative
Beginning after worship on Founder's Sunday, January 22, 2023
In 1993 when our church celebrated its 50th anniversary, we invited our members to share their favorite stories about our church. We gathered these stories together and published them in a blue book entitled, "Collected Remembrances." This collection of stories has served as a testimony to who we have are as a people on a journey of faith and a reminder of why this community means to so much to so many people.
Remembering our stories together is the life blood of any community. The primary reason religious communities develop rituals is to help us remember the stories of what God has done for us and what we have done together. Passover is the remembrance of Hebrews being delivered from slavery in Egypt. Communion is the remembrance of the Last Supper as well as Jesus' death and resurrection. Remembering our story together is the most sacred activity we engage in together as a community of faith.
Susan Beaumont writes, "When we are between an ending and a new beginning, when we are neither here nor there, when we aren't certain what to do next, we turn to our memories to make meaning of our experience. Where have we come from? How did we get here? What then should we do next? Our memories serve as a touchstone, a benchmark for evaluating the authenticity of our available choices." She goes on to state, "Revisiting institutional memories and tending to the ways we recount them is critical work in a liminal season."
As we celebrate our 80th anniversary as a church, I am inviting you to join me in a time of remembering and sharing our stories with each other. Throughout 2023, I will be personally interviewing members of our church and asking them to answer a series of questions about their time in our community.
Here are some examples of the questions I'll be asking:
Reflecting on your entire experience at our church, remember a time when you felt the most engaged, alive, and motivated. Who was involved? What did you do? How did it feel? What happened as a result?
What are the most important contributions the church has made to your life? Tell me when this happened. Who made a difference? How did it affect you?
Don't be humble; this is important information: Tell me about a time when you made an important contribution to our church--through your personality, your perspectives, your skills, your activities, your character? What was happening? Who else was involved? How did you make a difference?
Tell me about an important spiritual experience, growth in belief, or step of faith that has occurred for you in this congregation. Describe what, when, how, and where this happened.
What are the essential, central characteristics, practices, or ways of life that make our church unique?
Make three wishes for the future of our congregation? Describe what the church would look like as these wishes come true.
Our first interviews took place after worship on Founder's Sunday, January 22, 2023.
We invite you to enjoy the exciting conversations with longtime members Ed Williams, a free-lance writer who was editor of the Charlotte Observer for 25 years, Ted Lucas, and Ann Owens who was married to our Senior Minister Gene Owens.
Our second interviews took place on Sunday, February 19, 2023.
In a special edition of our "Tell Me Our Stories" series in recognition of Black History Month, Rev. Dr. Ben Boswell interviews David Willingham who will celebrate 50 years on staff at Myers Park Baptist Church on March 6. Then we hear from a panel of our members: Franchaska Quick, Ryan LaPrade, and Claudette Green.
If you or someone you know would like to be interviewed as a part of this year-long series, please contact me and I will be delighted to add you to the list.
Happy 80th birthday to you Myers Park Baptist! Let's celebrate by remembering our past and telling each other our stories.