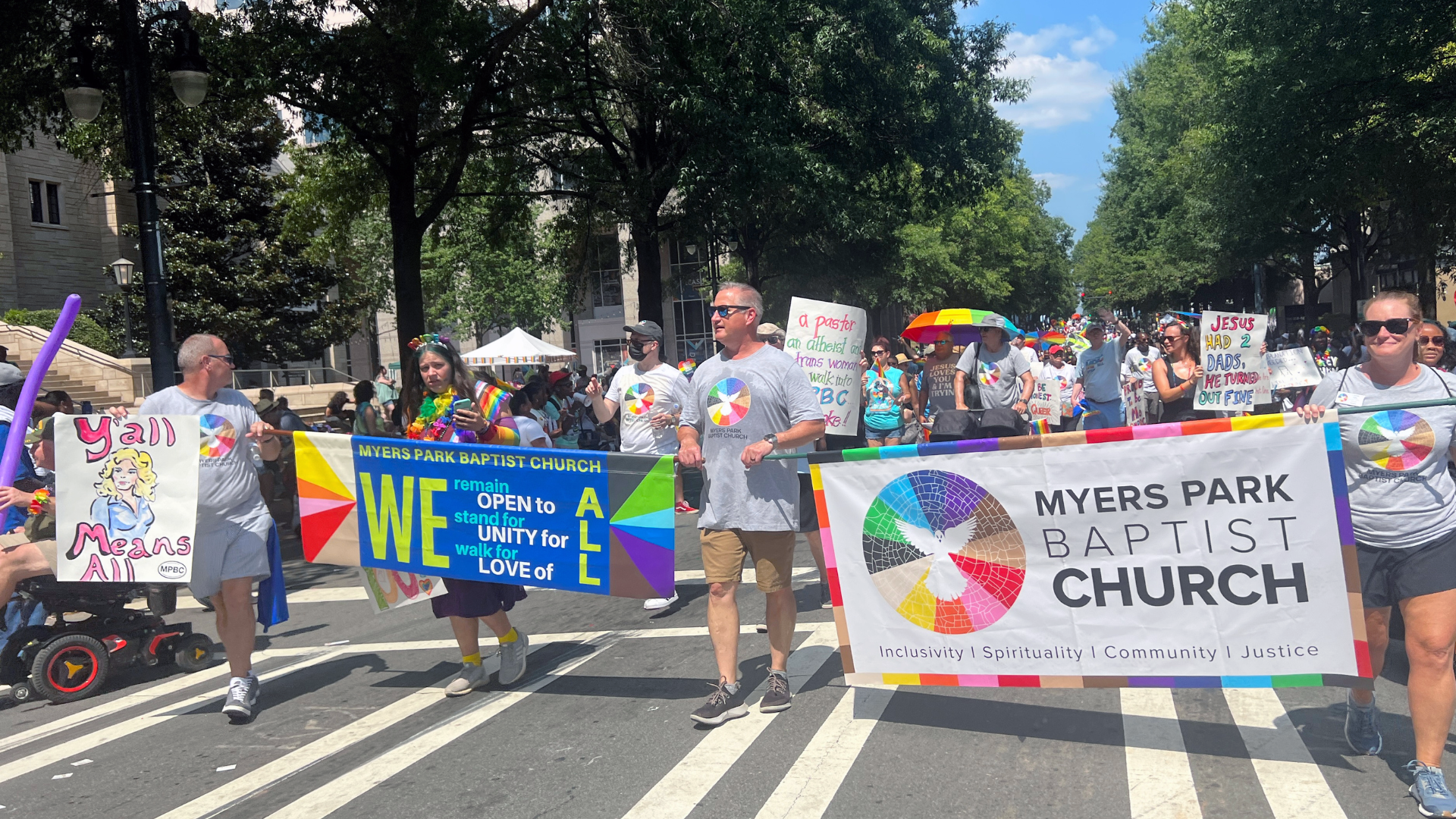 On Sunday afternoon August 20, 40 members of MPBC and a youth drumline from AllTurnatives non-profit organization, gathered together in the blazing hot sun to march in the 2023 PRIDE parade. Lining up and waiting felt longer than ever this year due to the heavy August heat, but once we stepped off into the parade the response from the crowd of LGBTQ+ people and their allies was so full of love, gratitude, and joy that the heat didn't seem to bother us anymore.
Charlotte PRIDE has become the Queen City's largest festival and parade, and this year the event set a new record with 40 floats, roughly 10,000 marchers, and over 260,000 people in attendance. Every year, our members are deeply moved by the way people respond to seeing our church show up to proclaim that we are unapologetically open to all and bold about our inclusivity. The crowd cheers at the posters we carry that are emblazoned with words of affirmation for LGBTQ+ people and the struggle for human rights, and they scream with glee when they see we're handing out rainbow-colored frozen popsicles again like we have in years past.
In addition to the parade, we have a booth at the festival and often have people come up to our volunteers overwhelmed with tears of gratitude to see a church at PRIDE. Every year, PRIDE is an important example of how radical it is that MPBC exists in this city. The response of the crowd is a loud and colorful testimony of the impact we've had on the LGBTQ+ community and a stunning reminder that our church does not only have ministry partners—our church itself is a ministry—a ministry of love, inclusivity, community, and belonging that has. and continues to change the lives of so many people. We hope you continue to support us in spreading the message of love and join us for the festival and parade next year!