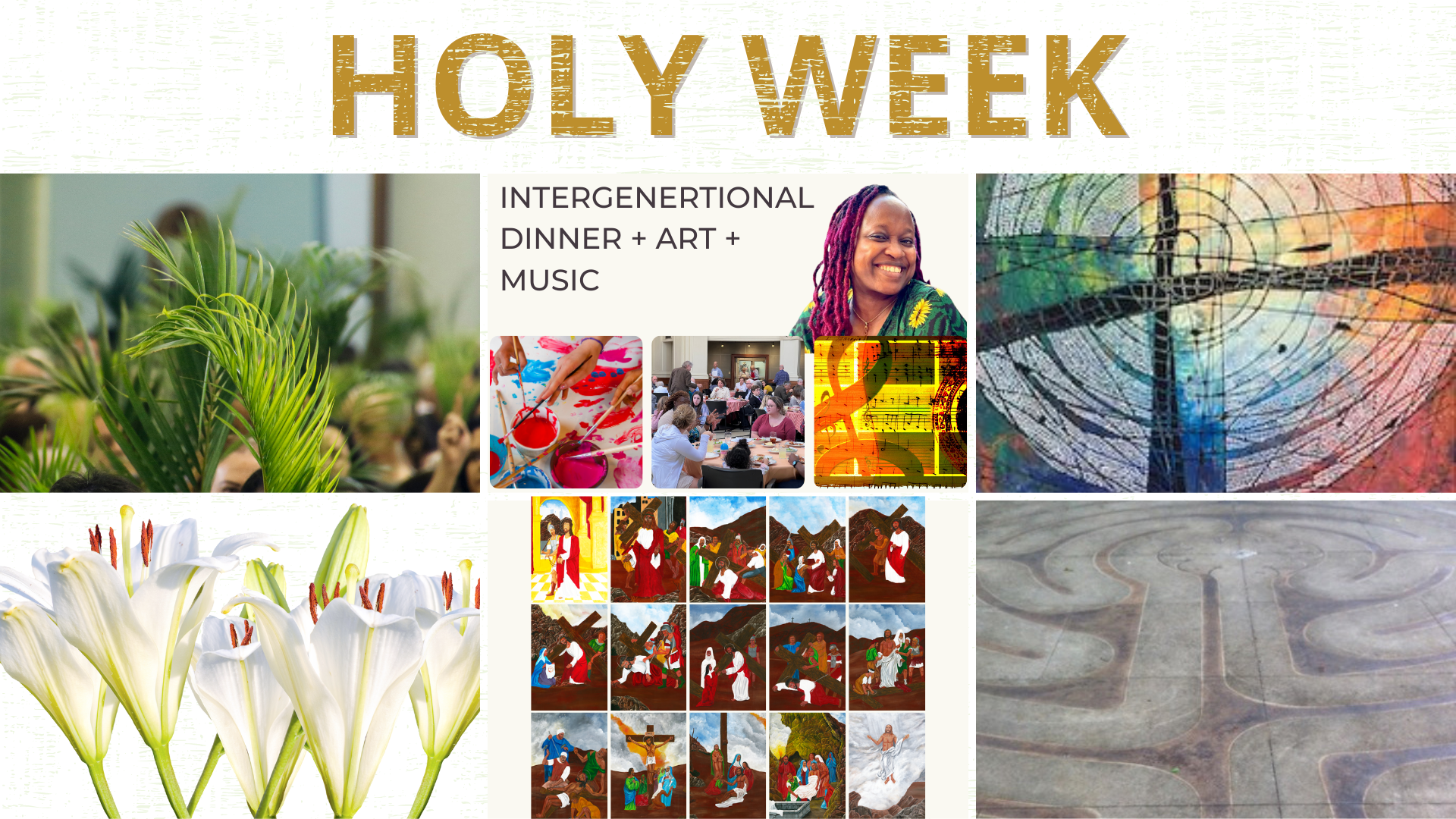 Palm Sunday, April 2
9:45a | Childcare (Birth-Kindergarten)
10:00a | Worship
10:15a | NO Children's Worship (Children will be participating in the Palm Sunday service)
11:15a | Spiritual Growth | Faith & Community Class
11:00a | Stations of the Cross Exhibit
11:45a | Churchwide Lunch and "Tell Me Our Stories" Interviews
4:00p | Youth Block
This is one of our most beloved services. It starts off triumphantly with singing and the waving of palm branches as we remember Jesus's entry into Jerusalem. The service ends with the procession of the cross accompanied by powerful music of organ and violin followed by the placing of our palms at the foot of the cross.
This year, following the service, all are encouraged to view the Stations of the Cross exhibit in Heaton Hall Foyer on your way into Heaton Hall for a churchwide lunch and our Women's History Month edition of our Tell Me Your Stories series. Lunch reservation information will be available soon. | View previous interviews here
Stations of the Cross Exhibit
Heaton Hall Foyer
The Stations of the Cross are a series of images portraying the crucifixion of Jesus and the events leading up to his execution. For hundreds of years, like these, Christians have reflected on images like these, especially during Lent and Easter. These particular images are compelling because they were painted by men who have also been condemned to die. | Learn more
Join us for Lunch & 80th Anniversary Tell Me Our Stories Interviews
Palm Sunday, April 2 | 11:45a | Heaton Hall
Our Palm Sunday activities continue with a churchwide lunch and the 3rd interviews in our 80th Anniversary series "Tell Me Our Stories." This edition celebrates Women's History Month as Rev. Dr. Ben Boswell speaks with Suzette Buchan, Robin Coira, and Tara Harris. All are invited to attend! No registration is needed. Cost for lunch is $5/adult and $3/child. Prepay for lunch here.
Holy Week of Healing
Intergenerational Meal + Art + Music
Holy Wednesday | April 5 | 5-6:30p | Heaton Hall
We have a special intergenerational event scheduled for Holy Wednesday. We are excited to have Wanjiku J. Mwangi joining us to lead us through a unique reading, sound, and visual art multi-sensory, spiritual experience. All ages are invited. We hope you will add this to your calendar. | Learn more about Wanjiku here | RSVP for Dinner
Good Friday, April 7
7p | Worship | Sanctuary
Communion
This is a Tenebrae Service, meaning "darkness" or "shadows." We will venture through the Stations of the Cross extinguishing a candle for each of the eight readings from the gospel of Matthew as we hear the story of the passion and death of Jesus. We will join in a musical response as each candle is extinguished reminding us of how the life of Jesus was slowly put out, and the light of the world began to fade, as Christ departed from it. The final candle and final words will leave us in total darkness.
The Labyrinth
A labyrinth is an ancient spiritual tool for reflection. Its winding, circuitous walk symbolizes a person's walk into themselves. The labyrinth here at MPBC was pattered after the 14th-century labyrinth at Chartres Cathedral in France. It is open to the public 24 hours a day and is well lit at night. | Learn more here
Our Labyrinth is located to the left when entering the circle behind the Cornwell Center on Roswell Avenue.