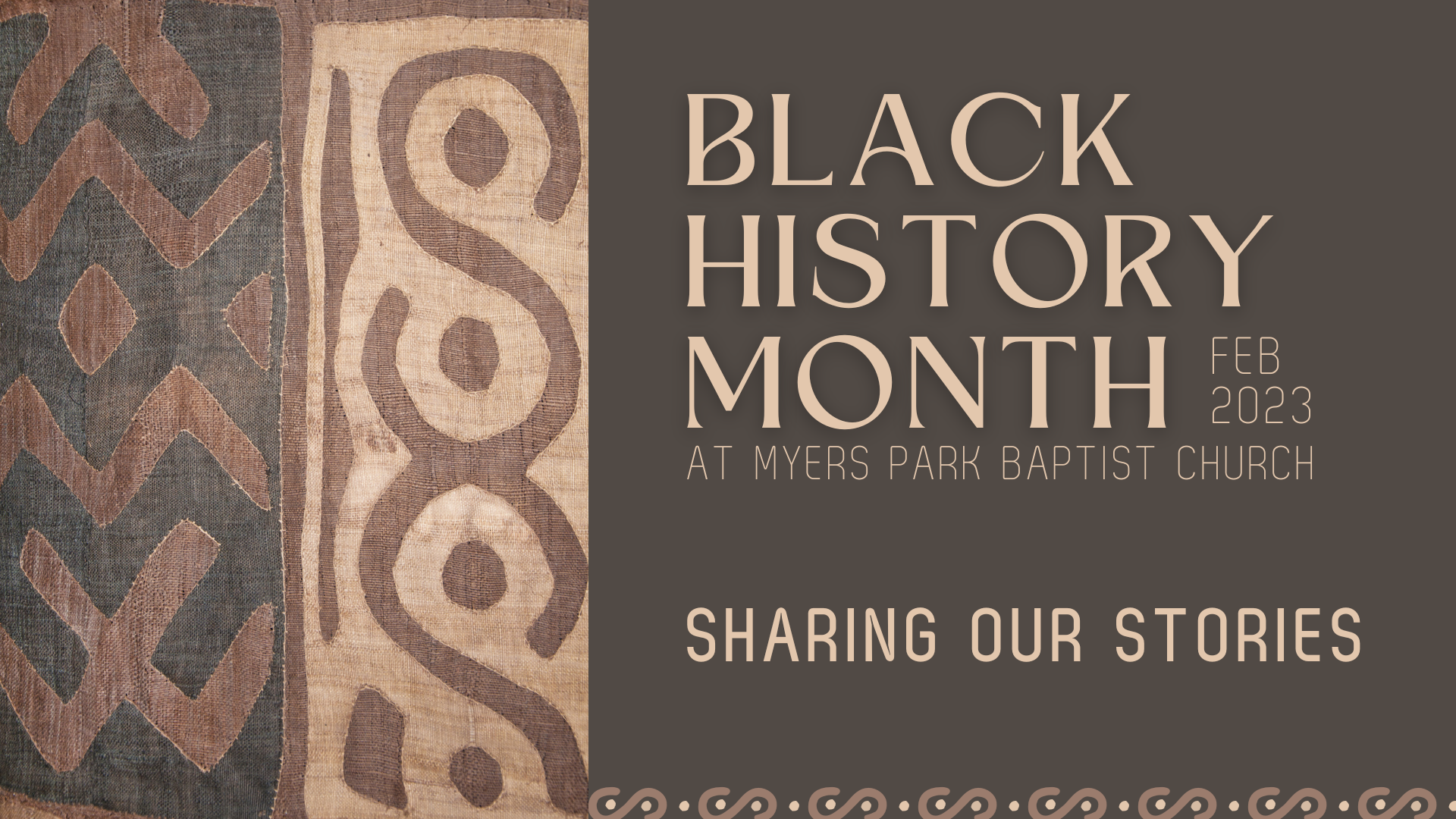 February is Black History Month
Our Theme is "Sharing Our Stories"
Stories have been used to dispossess & to malign. But stories can also be used to empower, & to humanize. Stories can break the dignity of a people. But stories can also repair that broken dignity. ― Chimamanda Ngozi Adichie
The Bible itself is a collection of stories about God & for generations has served as a source & framework for the stories we share within the Black community. This month, we want to share stories from the Word, written & embodied, that have shaped & sustained us throughout history. We hope you will join us every Sunday in Feb as we share stories of our celebrations, sufferings, healings, & hopes.
Proclaimers during February
Rev. Dr. JJ Flag | February 5
Rev. Daniel Cobbins (Mayfield Memorial Baptist, Charlotte) | February 12
Rev. Chalice Overy (Pullen Memorial Baptist, Raleigh) | February 19
Rev. Tara Gibbs | February 26
Black History Month Reflections
Key Events in MPBC Racial History
1943 - MPBC founded by twelve white men during Jim Crow Segregation in a neighborhood with racist restrictive covenants that prevent any homes or businesses to be purchased or owned by anyone who is not of the "white race."
1954 - MPBC raises money for 39 African American children to attend a camp run by Miss Anita Stroud. (Learn more about Anita Stroud in the resources section below)
1958 - MPBC calls prominent outspoke anti-racist preacher Dr. Carlyle Marney to be the church's second Senior Minister. (Read some of Marney's writings on racism and white supremacy here)
1963 - Dr. Marney works with Charlotte Chamber of Commerce President, Ed Burnside, to end Jim Crow segregation by integrating businesses.
1963 - Lay leader, Betty Jo Hamrick, representing Women's Missionary Society, responds to the bombing of 16th Street Baptist in Birmingham AL that killed four little girls, by holding meeting to call for desegregation and organized interracial discussion groups that met in MPBC members homes.
1966 - MPBC approves resolution to open membership to all races using the phrase "open to all and closed to none" for the first time.
1971 - MPBC's third Senior Minister Dr. Gene Owens publicly demonstrates his support for Forced Bussing as necessary for integrating Charlotte Schools to overcome racial disparities in education (see Frye Gaillard's book The Dream Long Deferred for more information).
1994 - MPBC calls its fourth Senior Minister, Rev. John Walsh, who comes to the church with two young children who were adopted and black.
2007 - Dr. Stephen Shoemaker, the church's fifth Senior Minister, establishes a partnership with historically black Friendship Baptist church and engages in pulpit/choir exchanges with their clergy and choirs.
2016 - MPBC calls its sixth Senior Minister, Dr. Benjamin Boswell, who works with Associate Minister Rev. Chrissy Williamson to lead the church in a year-long Awakening to Racial Injustice faith formation series.
2016 - MPBC hosts prominent Civil Rights leader, Rev. Dr. William J. Barber II, who preaches during an ecumenical inter-faith service on the Sunday immediately following the election of Donald Trump as the 45th President.
2017 - Dr. Boswell and Rev. Williamson partner with historically black Mayfield Memorial Baptist Church in Hidden Valley neighborhood and lead an interracial pilgrimage visiting significant historic Civil Rights locations throughout the South.
2019 - MPBC approves congregational Statement on Racism Toward African Americans, which states, "We will work to educate on white privilege, to dismantle racism, and to denounce white supremacy in every iteration, until all people, regardless of race, are fully affirmed, welcomed, and included in the social and economic fabric of our society."
2019 - MPBC calls the first black minister in the church's history, Rev. Mia McClain.
2020 - Dr. Boswell begins leading "What Does it Mean to Be White?" courses for members and the greater community in the wake of the brutal police murder of George Floyd.
2020 - Dr. Boswell, fellow MPBC clergy, lay leaders, and members participate in the first march for racial justice in the history of the Myers Park neighborhood.
2021 - Dr. Boswell awarded the prestigious Martin Luther King Jr. Medallion by the city of Charlotte, which is the city's the city's highest honor, given to a person who promotes racial equality, social justice, and community service.
2021 - MPBC calls the second black minister in the church's history, Rev. Tara Gibbs.
2021 - MPBC celebrates Black History Month for the first time as a congregation and establishes Hush Harbor
space designed specifically for and by People of Color at MPBC for retreat and rejuvenation.
2021 - MPBC host the first annual Confronting Whiteness conference to offer our church members & the surrounding community resources to strengthen their anti-racism journeys & opportunities to build relationships with other people who are doing the work.
2022 - MPBC elects its first black chair of the Board of Deacons, Ryan LaPrade.
2022 - MPBC embarks on an inter-faith pilgrimage with Reeder Memorial Baptist and the Alliance of Baptist to The Legacy Museum and National Peace and Justice Memorial in Montgomery AL established by the Equal Justice Initiative of Bryan Stevenson.
2022 - MPBC calls its first black male minister in the church's history, Rev. Dr. JJ Flag.
Resources
Learn more about Charlotte Black History
Anita Stroud (c1899-1984) grew up in poverty in South Carolina and decided to dedicate her life to children in need, especially during the holiday season. For half a century, she hosted after-school programs and organized activities to care for at-risk children in Charlotte. Her after-school programs in public housing neighborhoods in Charlotte were among the earliest community efforts to make up for the deficiencies children had when they went to school less prepared than others. She also organized holiday dinners and festivities, so her "children" never missed out on winter celebrations. Friends and supporters founded the Anita Stroud Foundation to perpetuate her legacy. The Anita Stroud Foundation has continued her work since her death in 1984.
"I decided I was going to work to help other children who had to come up hard like I come up, children who were unloved, children who were shoved around and didn't get the benefits of the good things. The little ones nobody see."